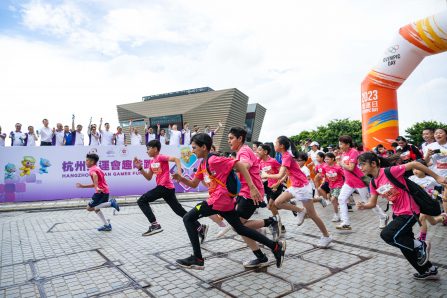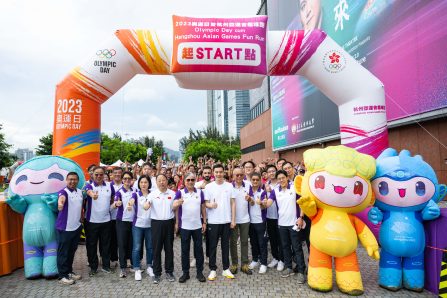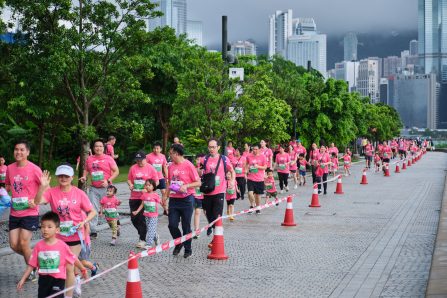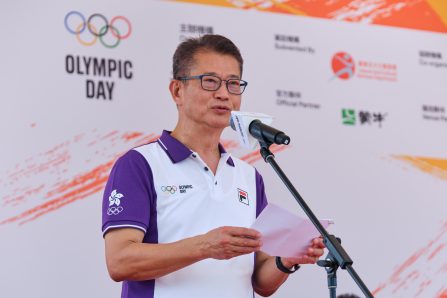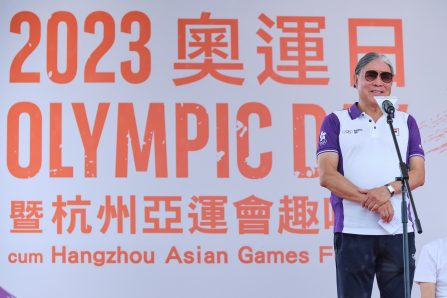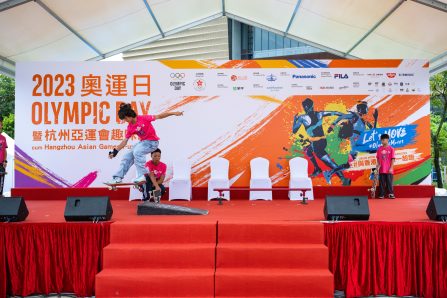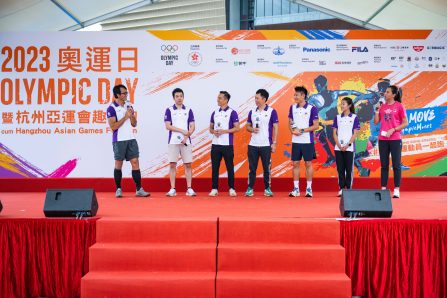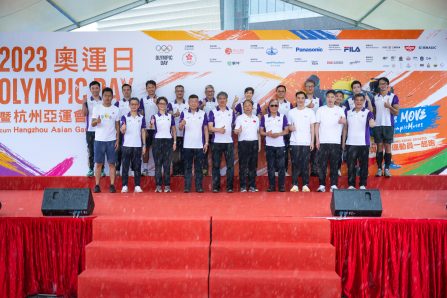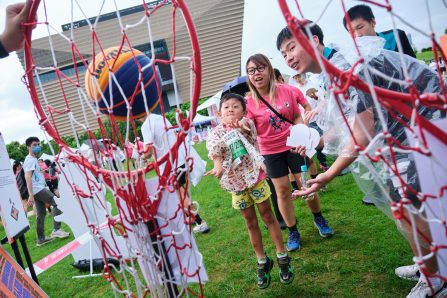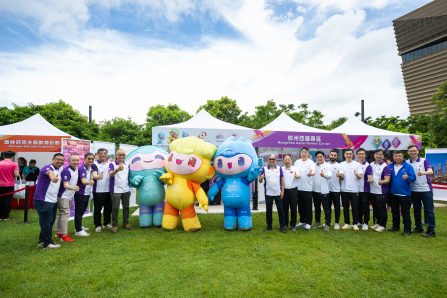 Show more photos
Show less photos
Olympic Day Resumes Physical Run to Promote Olympism and Support Hong Kong Athletes to Compete at Hangzhou Asian Games
The Sports Federation & Olympic Committee of Hong Kong, China (SF&OC) today organized 2023 Olympic Day (OD) with the theme of "Run with Hong Kong Athletes" at the West Kowloon Cultural District. It was the first OD physical running event since the pandemic. The event, featuring both "Individual" and "Family Fun Run", received an enthusiastic response with about 3,000 participants. In light of the forthcoming Hangzhou Asian Games in September, the "Hangzhou Asian Games Fun Run" was also held to encourage the public to support Hong Kong athletes to compete at the Games. In addition to the running event, SF&OC organized a Sports Carnival, open to the public free of charge, for families to enjoy the fun of sport.
Mr. Paul CHAN Mo Po, Financial Secretary; Mr. Timothy FOK, President of SF&OC; Mr. LIU Guoyong, Vice Minister of General Administration of Sport of China and Vice President of Chinese Olympic Committee; Mr. Jeans ZHOU Jian, Director of Media & Broadcast of Olympic Council of Asia; Mr. QIU Peihuang, Director of Venues Department of the 19th Asian Games Hangzhou 2022 Organising Committee; as well as Legislative Council members and SF&OC Officers officiated the event ceremony. Speaking at the ceremony, Mr. FOK said, "We are grateful for the public's enthusiastic participation in the event. I am delighted to see participants fully engaging in the event and I am moved by their passion for sports. Sport is not just about competitions or medals. After the pandemic in the past few years, people are becoming more health-conscious. Sport can help us improve our physical fitness. Each and every one of us can do sports every day to achieve a healthy lifestyle." At the ceremony, SF&OC also invited a number of athletes to share their sporting experiences and the fun of sport, encouraging the public to take part in physical activities so as to lead a healthy life. Attending athletes included LO Ying Chiu (Athletics), WONG Kai Lok (Athletics), WU Siu Hong (Bowling), HO Kwan Kit (Table Tennis), LEE Chun Ho (Karatedo) and YIU Kam Shing (Rugby).
A Sports Carnival, which is one of the Happy Hong Kong Campaign events, was also held on the same day. Through various mini-games booths and sports demonstrations, members of the public can learn more about different sports, including skateboarding, newly added to the Olympics, basketball, practical shooting, dodge disc and Air Badminton. Hangzhou Asian Games Corner was also presented in the carnival to promote the Games. The mascots of the Hangzhou Asian Games, Chenchen and Lianlian, as well as the brand new mascot of Team Hong Kong, China showed up and encouraged members of public to support Hong Kong athletes.
SF&OC has been organizing OD events annually since 1987 to commemorate the establishment of the International Olympic Committee and promote the Olympic values and spirits. In addition to the 2023 OD event, various activities will be held by different sports associations from June to July in order to continue to promote the three core values of Olympism, "Excellence, Respect and Friendship", in the community. Members of the public can visit the OD website for more details: 
https://2023od.hkolympic.org/en#nsas-activities
SF&OC would like to extend its sincerest gratitude to Leisure and Cultural Services Department for subventing the event, and Hong Kong Amateur Athletic Association for co-organizing the event. SF&OC would also like to thank its Gold Sponsor, Shun Hing Group; Official Sports Apparel Sponsor, FILA Marketing (Hong Kong) Limited; Bronze Sponsors, Industrial and Commercial Bank of China (Asia) Limited, Nissin Foods (H.K.) Company Limited  and Germagic Biochemical Technology (HK) Ltd; Official Partner, China Mengniu Dairy Co. Ltd.; Venue Partner, West Kowloon Cultural District; Supporting Units, Bonaqua® Mineralized Water, HKR International Limited and Ocean Park Hong Kong, for their generous support to the event.
For more event highlights, please visit SF&OC social media pages:
Issued by : Sports Federation & Olympic Committee of Hong Kong, China 
Date : 18 June 2023