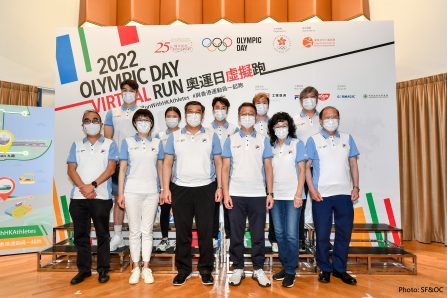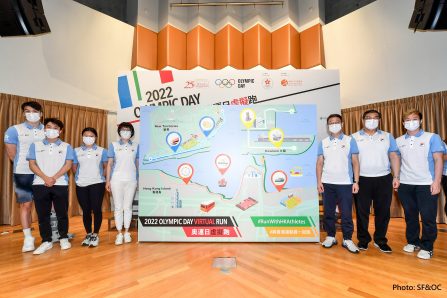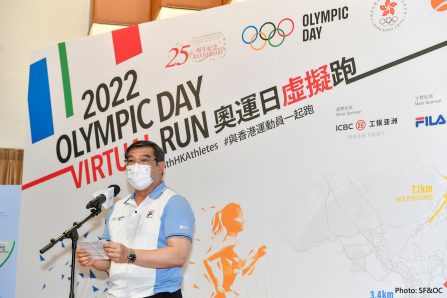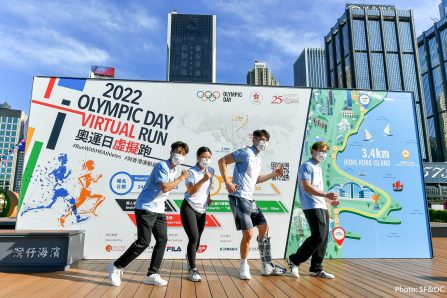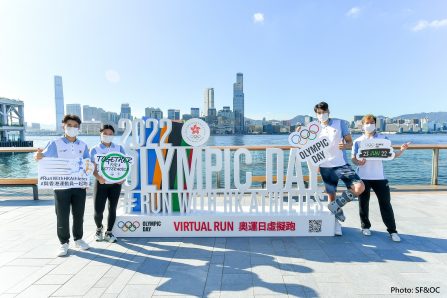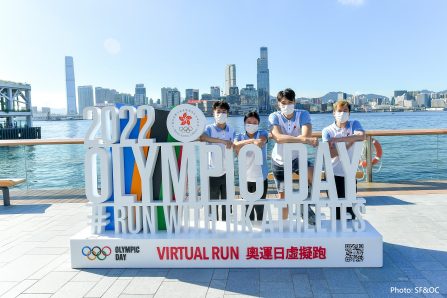 Show more photos
Show less photos
Official Launch of "2022 Olympic Day Virtual Run" Run Anytime Anywhere with Hong Kong Athletes
International Olympic Day is on June 23 every year and it is a global celebration event. A Kick-off Ceremony for the "2022 Olympic Day Virtual Run" hosted by the Sports Federation & Olympic Committee of Hong Kong, China (SF&OC) was held at Olympic House today to announce the details. SF&OC has decided to organize the Olympic Day (OD) in form of Virtual Run for the first time with the theme of "Run With HK Athletes", encouraging people to stay active, stay fit, being positive and together through the OD.
Mr. TONG Wai Lun, Vice President of SF&OC cum Chairperson of the OD Organizing Committee; Mr. LIU Ming Kwong, Vincent, Director of Leisure & Cultural Services and Ms. YANG Xue, Chief Culture Officer of Industrial and Commercial Bank of China (Asia) Limited were the Officiating Guests in the event.
OD is an annual event to celebrate the establishment of the International Olympic Committee (IOC) on 23 June 1894 at Paris. Since 1987, SF&OC organized different events annually to celebrate this meaningful day and to promote Olympism. This year, SF&OC has decided to organize Virtual Run for the first time as the celebration event, people aged 3 or above are welcome to enroll the event. To celebrate the 25th anniversary of the establishment of the HKSAR, the OD is accredited as one of the official events for the celebration. Participants can discover Olympic Spirits and enjoy the festivity at the same time.
Participant finished at least 1km at anywhere in Hong Kong is able to receive a finisher pack. There are individual and team event category for the Virtual Run while all the participating teams which have completed and submitted the required information, can receive HK$4,000 free credit card spending limit sponsored by ICBA (Asia). The total sponsorship amount is HK$100,000.
To let more people know about the OD, three designated routes with mega OD decorations in Hong Kong Island, Kowloon and New Territories are recommended for public to take photos during their run. Participant who completed the run and submit their selfie with OD decorations would receive extra gift. The three routes are: –
Hong Kong Island Route
From Wan Chai Temporary Promenade to Tamar Culture Plaza
~3.4km (Round trip)
Kowloon Route
From Kwun Tong Promenade tower landmark to
Kai Tak Underground Plaza
~2.6km
New Territories Route
From Sha Tin Park to Pak Shek Kok Landing
~7.1km
Speaking at the Ceremony, Mr. TONG said, "The Virtual Run echos the three pillars i.e., MOVE, LEARN and DISCOVER set out by IOC, and practices the new pillar of "TOGETHER, FOR A BETTER WORLD". Public participate in running can share the positive energy of sports via their social platforms and create a better world through sport. On the other hand, to continue our support to Hong Kong Athletes after the Tokyo 2020 Olympic Games, the theme of the Virtual Run is "Run With HK Athletes", we will always be with our athletes from different competitions and cheer them on."
Four Olympians also presented in the kick-off ceremony to show their support to the OD and shared their experiences in the event. They are Tokyo 2020 Olympian, Mr. CHEUNG Siu Lun (Fencing), Beijing 2022 Olympic Winter Games Olympians Mr. CHU Sidney K (Short Track Speed Skating), Ms. KING Audrey Alice (Alpine Skiing) and Rio 2016 Olympian, Mr. LEE Chun Hei Reginald (Badminton). They appeal members of the public to join the Virtual Run and different sporting activities in order to bring people together through sport.
Registration Details of "2022 Olympic Day Virtual Run"
Registration Period :
24 June to 22 July 2022
Event Period : 
1 to 30 July 2022
Entry Fee :
Individual Event – HK$80/pax
ICBC(Asia)Presents – "All for One" Team Event – HK$400/Team
Registration Website :
http://2022od.hkolympic.org
The SF&OC would like to express our heartfelt appreciation to the following organizations for their staunch support, including Subvented Organization – Leisure and Cultural Services Department; Silver Sponsor – Industrial and Commercial Bank of China (Asia) Limited, Main Sponsor – Fila Marketing (Hong Kong) Limited and Nissin Foods (H.K.) Company Limited and Supporter – Germagic Biochemical Technology (HK) Limited and Henderson Land Group.
Issued by: Sports Federation & Olympic Committee of Hong Kong, China
Date : 23 June 2022